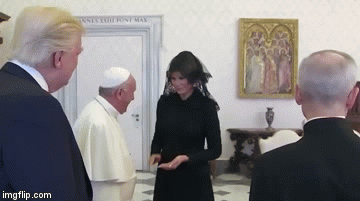 Rad Trad apparently are unable to practice the Catholic Faith because of Pope Francis.
Somehow with Pope Francis at the helm, the Rad Trads are hindered by some mysterious force that forces Rad Trads to leave off their prayers and meditations (if they ever did any) and forces them to spend most of their time on the internet whining, complaining and moaning on blogs, Facebook, Twitter etc...telling anyone who will listen, that how difficult it is to be a Catholic under Pope Francis!
LOL!
Now these spiritual lazy Rad Trads have dreams and vision of POPE DONALD!
Yes. Rad Trads now admit that they would rather have a three times married PROTESTANT HERETIC as a Pope than Pope Francis.
Again - LOL!
So please if you attend the New Mass do not be intimidated by those who sit in the Latin Mass Pews - they are just as messed up as those they complain about.
Attendance at the Latin Mass is no guarantee that you will not be an idiot.
Here read the wishes of a democracy lovin' crazed Mundabor
I would gladly set for a Pope Donald, one who is tough and always ready for a fight, whatever his private shortcomings. He would repair a lot of damage, all right.
Source