POPE FRANCIS OF DOOM! Pope Says "Remember, Repair, Rebuild…Together".....Then SOUTH AMERICA BLACKOUT HITS! ALL ELECTRICITY Goes OUT In ARGENTINA CHILE URUGUAY BRAZIL & PARAGUAY....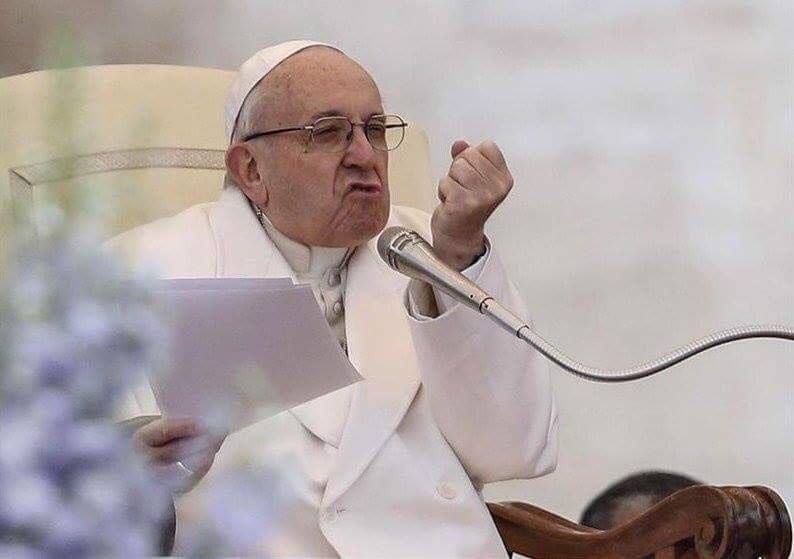 16 JUNE 2019
Pope at Mass in Camerino: "Remember, repair, rebuild…together"
The earthquakes that struck Camerino and nearby Italian hill-towns, on August 24th and again on October 30th three years ago, left nearly 300 people dead and buildings in ruins. At a magnitude of 6.6 on the Richter Scale, they were the most destructive earthquakes to hit Italy in over 30 years, after those that devastated L'Aquila in 2009. The towns and the people have been struggling to recover ever since.....The Pope recalled how "almost three years have passed" since the earthquake struck in 2016. "The risk is that, after the first emotional and media involvement, attention falls and promises are forgotten", he said. "The Lord instead pushes us to remember,
repair, rebuild,
and to do so together", he said, "without ever forgetting those who suffer". "I came here today to be close to you", concluded Pope Francis, "to pray with you to the God who remembers…the God of hope…the God who is close to us…so that what is unstable on earth will not shake the certainty that we hold within us".
Source
THEN THIS......
16 JUNE 2019 SOUTH AMERICA BLACKOUT
SOUTH AMERICA BLACKOUT
7:07AM Local Time
SUNDAY, 16 JUNE 2019
Electrical failure cuts power to all of Argentina and Uruguay, supplier says
A massive electrical failure has left almost all of Argentina and Uruguay without power, according to a major Argentine electricity provider. Parts of Paraguay were also affected, a state energy company said. Argentine media said the power cut occurred shortly after 07:00 (11:00 BST), causing trains to be halted and failures with traffic signalling. It came as people in parts of Argentina were preparing to go to the polls for local elections.
What do we know about the blackout?
"A massive failure in the electrical interconnection system left all of Argentina and Uruguay without power," electricity supply company Edesur said in a tweet. Alejandra Martinez, a spokeswoman for the company, described the power cut as unprecedented. "This is the first time something like this has happened across the entire country." The exact cause of the blackout has not yet been determined. Citing official sources, Argentine media reported that it was linked to a failure in the transmission of electricity from the Yacycretá hydroelectric dam. The Ministry of Civil Protection estimated that parts of the service could be restored in about seven or eight hours.
Source

Pay Attention!


"In the year 1864, Lucifer together with a large number of demons will be unloosed from hell; they will put an end to faith little by little, even in those dedicated to God. They will blind them in such a way, that, unless they are blessed with a special grace, these people will take on the spirit of these angels of hell; several religious institutions will lose all faith and will lose many souls.
Our Lady of La Salette 19 Sept. 1846
(Published by Mélanie 1879)
Several will abandon the faith, and a great number of priests and members of religious orders will break away from the true religion; among these people there will even be bishops.
Our Lady of La Salette 19 Sept. 1846 (
Published by Mélanie 1879)
"Francis / Bishop of Rome."


Francis The Destroyer
For In Those Days Jesus Christ Will Send Them Not A True Pastor, But A Destroyer
~ St. Francis