FCC Warns Fr John Zuhlsdorf (W9FRZ) And His Group Of Ham Radio Followers Against Using Ham Radio For Criminal Insurrection Acts......CQ CQ CQ......
Fr John Zuhlsdorf Call Sign W9FRZ
Always wondered why Fr Z was involved in Ham radio. Fr Z has a large following among Amatur Radio operators.
Fr. Z has a lot going on right now:
Trump Lost
Performed Exorcism Without The Permission Of The Bishop
Capitol Insurrection
Kicked Out Of The Madison Diocese
Social Media Platforms Shut Down
FCC Warning
That's a lot of disappoint on his plate
FCC has issued a WARNING today
Amateur & Personal Radio Users Reminded Not to Use Radios in Crimes
Federal Communications Commission DA 21-73
DA 21-73
Released: January 17, 2021
FCC ENFORCEMENT ADVISORY
WARNING: AMATEUR AND PERSONAL RADIO SERVICES LICENSEES AND OPERATORS MAY NOT USE RADIO EQUIPMENT TO COMMIT OR FACILITATE CRIMINAL ACTS The Enforcement Bureau (Bureau) of the Federal Communications Commission issues this Enforcement Advisory to remind licensees in the Amateur Radio Service, as well as licensees and operators in the Personal Radio Services, that the Commission prohibits the use of radios in those services to commit or facilitate criminal acts.
The Bureau has become aware of discussions on social media platforms suggesting that certain radio services regulated by the Commission may be an alternative to social media platforms for groups to communicate and coordinate future activities. The Bureau recognizes that these services can be used for a wide range of permitted purposes, including speech that is protected under the First Amendment of the U.S. Constitution. Amateur and Personal Radio Services, however, may not be used to commit or facilitate crimes.
Specifically, the Bureau reminds amateur licensees that they are prohibited from transmitting "communications intended to facilitate a criminal act" or "messages encoded for the purpose of obscuring their meaning." 47 CFR § 97.113(a)(4).
Likewise, individuals operating radios in the Personal Radio Services, a category that includes Citizens Band radios, Family Radio Service walkie-talkies, and General Mobile Radio Service, are prohibited from using those radios "in connection with any activity which is against Federal, State or local law." 47 CFR § 95.333(a).
Individuals using radios in the Amateur or Personal Radio Services in this manner may be subject to severe penalties, including significant fines, seizure of the offending equipment, and, in some cases, criminal prosecution. 47 U.S.C. §§ 401, 501, 503, 510.
Media inquiries should be directed to 202-418-0500 or MediaRelations@fcc.gov.
To file a complaint with the FCC, visit https://consumercomplaints.fcc.gov or call 1-888-CALL-FCC. To report a crime, contact your local law enforcement office or the FBI.
To request materials in accessible formats for people with disabilities (Braille, large print, electronic files, audio format), send an e-mail to fcc504@fcc.gov or call the Consumer & Governmental Affairs Bureau at (202) 418-0530 (voice), (202) 418-0432 (TTY).
Issued by: Chief, Enforcement Bureau
Source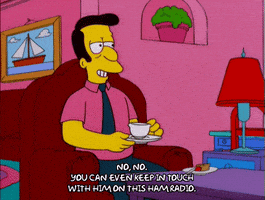 List of Fr. Z's Blog Ham Radio Operators
With WB0YLE I would like to build a Catholic Net.

Here's a list of hams who frequent this blog.

Don't forget the Echolink node! WB0YLE-R

Chime in if you are missing.

Z-Blog HAMS

acardnal KE4WKV
Joan W4JMJ
BMKoenig K3BMK
chris1 KJ4MPE
crule N4TII
Bryan Boyle WB0YLE
Andy Lucy KG4ZMF
Navy Jeff KC9TCZ
EXCHIEF N7WR
pledbet424 WB0MZT
Kenneth Jones KB3JA/BY
asperges G4NJH
Dan Soderlund KBØEO
Hesiodos AD7QQ
MWindsor – KT5WX
dahveed – KD8ZIB
FloridaJoan – W4JMJ
Jilly – WA4CZD
jpaluh – KB3LUE
Humilitas – KC4RAC
Jeffc – AC5XL
pledbet424 – WB0MZT
JBBIII – AD7QQ
Patrick L – AG4JQ
Dr Guinness – VK3SJB
MacBride – KC2MEO
Evan C – N5EDC
boxerpaws1952 – N3XFQ
chris_R – N3GBJ
Jack – W1JEM
Julia12 – KC9ALW
moon123 – KB9VSE
Pearl – KC8JSL
OK_doc – KF5THY
Baritone – KD5AYJ
IPSB – SA2BXP
ByzCath08 – W8GMN
Mojoron – K0CCP
Deacon Bob – W8CRO
Incensum – N9WIV
SimonsDad – KB1WOL
O. Possum – KC1BGU
Curt – AF7KQ
Arthur – KD9BRV
jeff_logullo – N0MII
ckamas – AD6CL
revueltos67 – KE5AKL
marty5519 – N7CYY
MouseTemplar – KE8CDO
Cascade_Catholic – KD7IGW
Stitch – KE0BIZ
jtz622 – KD8UTC
Allan S. – VA3BVM
semper_paratus – W4KM
WMBriggs – K2JM
LarryW2LJ – W2LJ
JonPatrick – KC1EFW
W1LZN – W1LZN
Deacon_Jeff – KE4LKB
hansdown – K0RTS
Alanmac – VE6WS
cnessel – W4CAN
bohemian – WA4STX
Aman4allseasons – VE7XRN
deaconjohn1987 – W2JPG
brasscow – K0KB
uvfd1062 – AB2SE
BenH – W0BPH
CyclePath – KD9LSJ
dbanke621 – KM4WCF
LeslieJohnson – N2YNK
Dmwareham – K0DKL
Greg the Geologist – KM6GTC
Ryguy – KC3QDH
Russell Lundsgaard – N9AGW

PRIESTLY HAMS

Fr. David McGuire AE4LH
frdanbecker WA1ZHQ
Rev. Canon Glenn Gardner K9ALT
plaf26 – KC0GA
Fr. Bryan – KD8ZFF
starprst- AB4TS
Fr. J. Stefanski – SQ3SWS / N2FCH
Fr. Paul A. – Cannariato KB2TJY
Fr_Joe_OMI – WB5LCU
Fr. Jackson – KB0PGJ (USA) ZL2JAC (New Zealand)

OTHERS

Rev. P. Bittner – W0AIH
There must be more of you! Drop me a note or register and comment!

And now for some of your non-registered lurkers….

AB3YH
AL7AD
KF7REI
W2QA
N2FFH
KD0ZSW
KE0LVS
W1WH
KK4RIR
N9AGW
KE0HGI

Please share this post!