Here is a professional journalist:
Background and Expertise
John Paul Shimek makes regular appearances in national and international news media where he been interviewed on a variety of television, radio, and podcast programs. He writes and speaks on a wide spectrum of theological and public forum topics for such media outlets as ABC, Zenit, the Catholic News Agency, the Catholic World Report, the National Catholic Register, Crisis Magazine, First Things, the American Spectator, the Daily Caller, Catholic Vote, Milwaukee Magazine, and the Milwaukee Journal Sentinel, among others.
With advanced graduate degrees in Religion and Philosophy from the Catholic University of America in Washington, D.C., Shimek offers expert insight into global Catholicism. He has been a Lecturer in the Theology of the New Evangelization as well as Political, Legal, and Moral Philosophy at Silver Lake College of the Holy Family in Manitowoc, Wisconsin in the Roman Catholic Diocese of Green Bay. And, he has served as a special assistant to the now-Cardinal Timothy Michael Dolan and Archbishop Jerome Listecki of the Archdiocese of Milwaukee, Wisconsin. Shimek provides advisory counsel to numerous Church and civic leaders, including Victoria Thorn of the Pontifical Academy for Life at the Vatican and the National Office of Post-Abortion Reconciliation and Healing.
OK good so far. The man seems reasonable and intelligent and educated enough to do more than blog. He knows how to form a sentence.
But then there's this: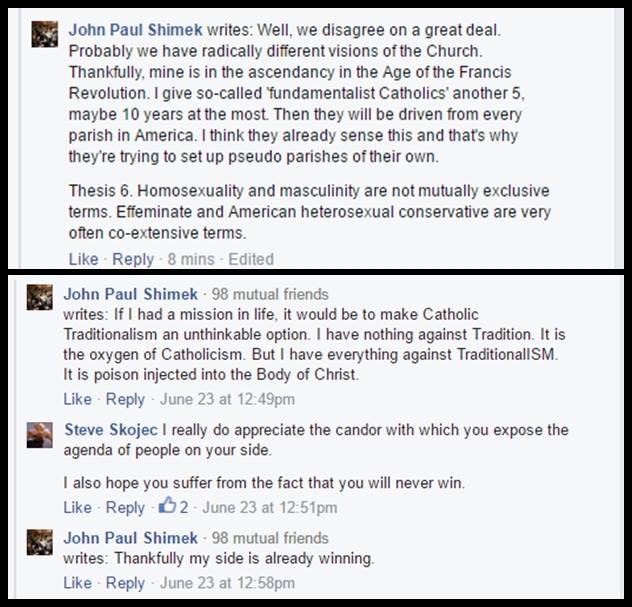 What?
"I give so-called 'fundamentalist Catholics' another 5, maybe 10 years at the most. Then they will be driven from every parish in America."
"If I had a mission in life, it would be to make Catholic Traditionalism an unthinkable option. I have nothing against Tradition. It is the oxygen of Catholicism. But I have everything against TraditionalISM. It is poison injected into the Body of Christ."
Is that more than a veiled threat?
What professional Journalist talks like this on public Media?
Let's say that John Paul Shimek was either drunk or high on some chemical when he wrote the above threat, then an apology would follow.
But no apology follow, instead he attacks the Latin Mass Catholics in an article that has since been taken down by NCRegister:
Should Good Catholics Read Far-Right Catholic Blogs? by John Paul Shimek
But if John Paul Shimek was in his right mind when he wrote then above threat against Latin Mass attending Catholics, then that would be cause for concern. Concern enough to say something to authorities.
So what happened to the Professional?
Well maybe the answer is found in Rome, here in his own words:
The Story of the Pilgrim Journalist
On the evening of March 5, 2013, I boarded a plane at Chicago's O'Hare International Airport as a graduate student in Theology and Religious Studies. Eleven hours later, I landed at Rome's Fiumicino Airport as a globe-trotting journalist. Overnight, I had been catapulted into the center of an epic storm.
For one month, I lived the life of a Vatican journalist and a theological consultant to multiple national and international radio and television networks, print media, and internet-based web magazines, blogs, and podcast programs. I had moved from the monastic orderliness of an academic library to the center of an unprecedented maelstrom of media excitement at the heart of the Roman Catholic Church.
Both Christian and secular news groups contracted with me to report on Pope Benedict XVI's historic abdication, the first papal resignation in more than seven centuries; the March 2013 conclave; and, the election of the first non-European pope in over a millennium. As a journalist accredited to the Holy See Press Office, I was granted inside access to the Vatican and a prima fila boxseat on the most riveting events in Catholic Church history since the Protestant Reformation. For a month, I reported on historic headline-making events that Dan Brown himself couldn't have imagined.
During my sojourn in the Eternal City, I had the opportunity to interview cardinal electors who participated in the conclave that witnessed the ascension of the first Latin American pope to the Chair of Saint Peter; bishops, priests, and lay people who staff the Vatican's curial offices and departments; and, pilgrims from around the world who descended in the hundreds of thousands upon the world's smallest nation.
What I witnessed in Rome in March 2013 was the beginning of the Francis Revolution, a springtime of faith and a blossoming of the new evangelization in the center of global Catholicism. Since returning to the United States, I have continued to document this revolution as a correspondent for the Catholic World Report, the National Catholic Register, Crisis Magazine, Catholic Vote, and the Daily Caller
Gay professional journalist in Rome was most likely targeted by Muslims. John Paul Shimek picked up a few Muslim lovers during his stay in Rome.
His boyfriend(s) continued the relationship and eventually followed Shimek to America where Shimek was manipulated or radicalized to the extend that the professional was bold enough to declare his Jihad against Latin Mass attending Catholics on social media.
We will find out soon enough.....