Cardinal Burke's DUBIA Hasn't Deposed Pope Francis! But It Has DEPOSED Prior Cassian Folsom Of NORCIA MONKS!
The curse of Cardinal Burke......strikes the Monks of NORCIA again....
Fr Cassian Folsom, the founder of the Benedictine community at Norcia (Italy), has after 18 years as superior retired. The new Prior is Fr Benedict, of the community. Fr Cassian speaks below of the need, particularly in light of the terrible earthquakes which have destroyed their main monastic buildings and lovely church, for a younger and more energetic superior. It is good to hear that he remains in good health. He will be a great asset to the community as an elder statesman, something of great value for all religious communities. We should give thanks to Fr Cassian for his great work, and offer our prayers for Fr Benedict and the entire community in the huge task which lies before them. May they continue to flourish! Source
10 FEBRUARY 2013
Cardinal Burke meets with the Monks of NORCIA and the very next day the Pope resigns and lightning strikes St. Peter's!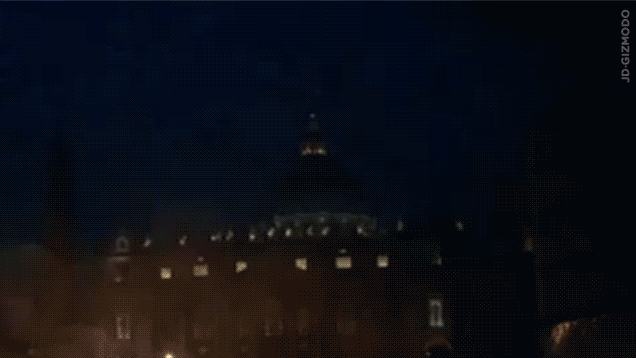 On Sunday, February 10th, we welcomed His Eminence, Raymond Cardinal Burke to the monastery for the Feast of St. Scholastica; it was an honor to host him. The very next day, Pope Emeritus Benedict announced his resignation from the papacy.

Source
Cardinal Burke insists he's not an 'enemy' of Pope Francis
"I know about all these depictions. People call me 'the enemy of the pope' and so forth. I have never been, and I am not presently the enemy of the pope," Source
Then this two days later:
THE EARTHQUAKE AND THE MONKS Many of you have by now heard of the earthquake that struck us during the night. The quake was a powerful one with a magnitude of 6.2. We've taken the past few hours to assess the situation. Source
Maybe the LORD OF EARTHQUAKE knew Burke was lying when he said that he is not the enemy of the Pope and the LORD OF EARTHQUAKE decided to shake up things.....
What's next for the Monks Of NORCIA?