British Airways DOOM! Will You Pray For The Destruction Of The Airline Industry Tomorrow During Sunday Mass?
Voices will be heard in the air. Men will beat their heads against walls, call for their death, and on another side death will be their torment. Blood will flow on all sides.
Our Lady of La Salette 19 Sept. 1846 (Published by Mélanie 1879)
The darksome atmosphere is as a prison to the demons until the judgment day. They carry fire of hell with them wherever they go. The devils besought the Lord not to cast them into the abyss; for they asked for this, deeming it to be a punishment for them to be cast out of a place where they could injure men. Hence it is stated,They besought Him that He would not expel them out of the country. St Thomas Aquinas


In the year 1864, Lucifer together with a large number of demons will be unloosed from hell
Our Lady of La Salette 19 Sept. 1846 (Published by Mélanie 1879)
The demons of the air together with the Antichrist will perform great wonders on earth and in the atmosphere, and men will become more and more perverted.
Our Lady of La Salette 19 Sept. 1846 (Published by Mélanie 1879)
For the time has come when the most astonishing wonders will take place on the earth and in the air.
Our Lady of La Salette 19 Sept. 1846 (Published by Mélanie 1879)
Our wrestling is not against flesh and blood; but against Principalities and Powers, against the rulers of the world of this darkness, against the spirits of wickedness in the high places. Ephesians 6:12
Did you pray for the destruction of the Airline Industry during Ascension Thursday Mass?
No?
Well you get a chance to pray this Sunday because Ascension Thursday is now on Sundays! Thanks to JPII.
Here's what happened after praying for the destruction of the Airline Industry on Ascension Thursday:
Welcome to ba.com
Following the major IT system failure experienced earlier today, with regret we have had to cancel all flights leaving from Heathrow and Gatwick for the rest of today, Saturday, May 27.
We are working hard to get our customers who were due to fly today onto the next available flights over the course of the rest of the weekend. Those unable to fly will be offered a full refund.
The system outage has also affected our call centres and our website but we will update customers as soon as we are able to.
Most long-haul flights due to land in London tomorrow (Sunday, May 28) are expected to arrive as normal, and we are working to restore our services from tomorrow, although some delays and disruption may continue into Sunday.
We will continue to provide information on ba.com, Twitter and through airport communication channels.
We will be updating the situation via the media regularly throughout the day.
We are extremely sorry for the inconvenience this is causing our customers during this busy holiday period.
If you would like to continue please click on one of the following links, otherwise please visit us again later
British Airways: All flights cancelled amid IT crash
British Airways has cancelled all flights from Heathrow and Gatwick amid global problems with its IT systems. A "major IT system failure is causing very severe disruption to our flight operations", the airline said. It apologised and said there was no evidence of a cyber attack. BA chief executive Alex Cruz said: "Our IT teams are working tirelessly to fix the problems. We believe the root cause was a power supply issue." He added: "I am really sorry we don't have better news as yet, but I can assure you our teams are working as hard as they can to resolve these issues."The airline hoped to be able to operate some long haul inbound flights on Saturday, landing in London on Sunday, Mr Cruz added. The GMB union has suggested the failure could have been avoided, had the airline not outsourced its IT work. BA refuted the claim, saying: "We would never compromise the integrity and security of our IT systems".
BBC>>>>>
BA BANK HOLIDAY CHAOS


BRITISH Airways have cancelled all flights from Heathrow and Gatwick airports until 6pm after their computer systems were brought down across the entire world. Passengers trying to travel on Bank Holiday weekend were left stranded in terminals with huge queues forming inside and outside airport buildings on one of the hottest days of the year so far in the UK.Angry fliers took to social media and complained about how they have missed flights, are stuck on the tarmac and can't use the airline's app or website. There were reports of BA staff telling disgruntled passengers trying to get away for the Bank Holiday weekend that the company was under cyber attack but this has been denied by the airline. Passenger Jo Josson said: "Officials are telling us there has been a cyber attack against BA's systems. Even the tannoy is affected."
Sun>>>>>>
'It's carnage': British Airways computer systems crash across the WORLD after they are 'hacked' sparking chaos at airports with all flights from Gatwick and Heathrow cancelled
Passengers are facing massive flight delays after British Airways computer systems crashed across the world ahead of the Bank holiday weekend, All BA flights from Heathrow and Gatwick before 6pm have been cancelled because of a 'major IT system failure' that is causing 'severe disruption worldwide'. One frustrated passenger at Heathrow Airport said customers were told their flight to Stockholm would not be rescheduled and they would have to re-book a new flight online. Hundreds of fliers are stuck in 'huge' check-in lines and parts of BA's website and app are not working - causing people trying to check-in online to miss their flights. Several passengers reported that the captain and gate staff at Gatwick Airport said the airline could be under a cyber attack. Furious fliers in the UK, the US, Rome, Belfast and Lisbon among other locations vented that they have been stuck on their plane for more than two hours. They spoke of 'disgraceful' customer service as staff gave out 'no information', while others said it was 'carnage' at Heathrow Airport's Terminal 5 and warned travellers to stay away. The airline said it was 'experiencing a global system outage' and told passengers not to travel to London airports on Saturday due to 'extreme congestion'.
Daily Mail>>>>>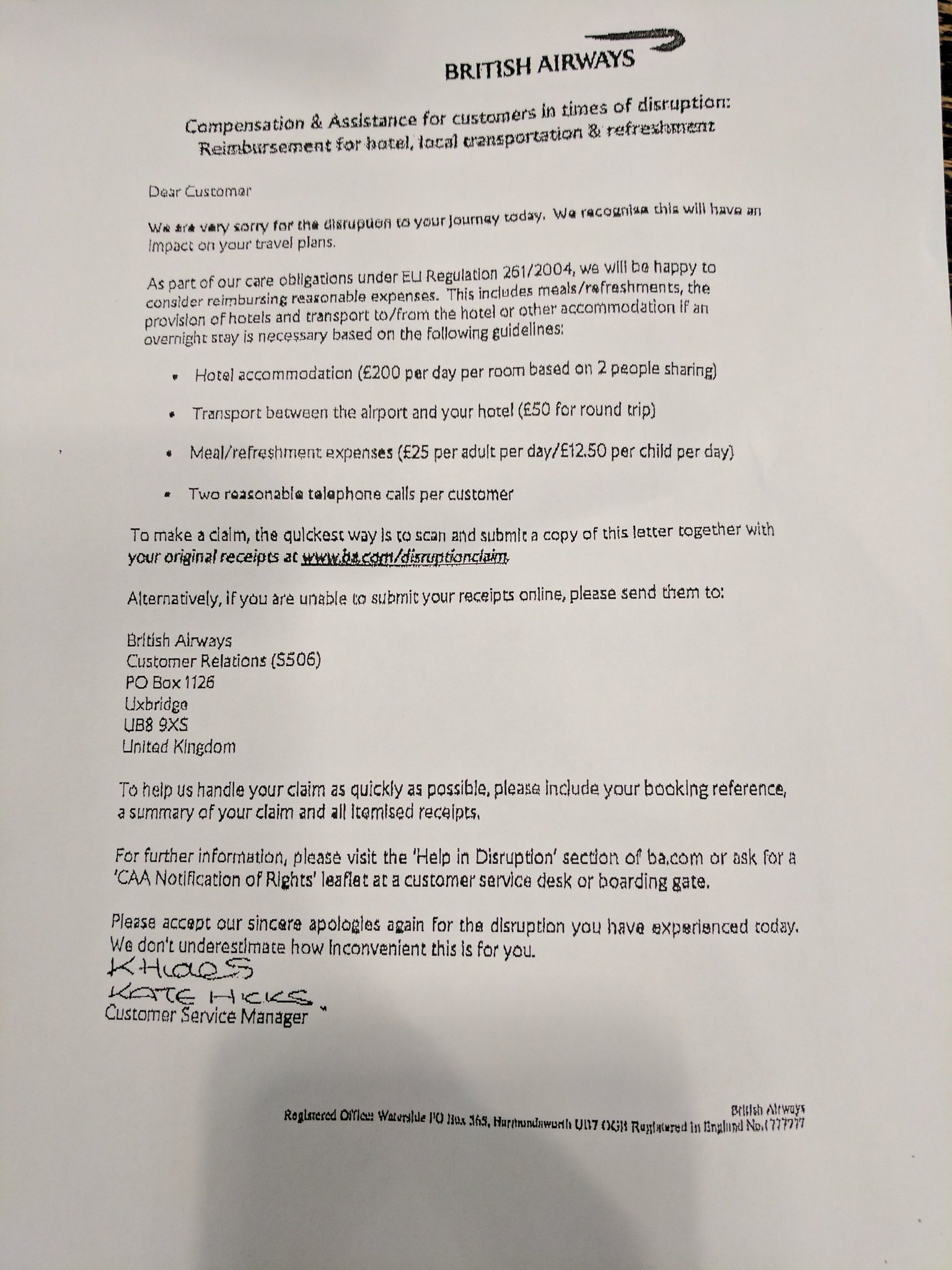 Here, read from a Saint on where the Demons reside:
Article: 4 Whether our atmosphere is the demons' place of punishment?
1. It would seem that this atmosphere is not the demons' place of punishment. For a demon is a spiritual nature. But a spiritual nature is not affected by place. Therefore there is no place of punishment for demons.
2. Further, man's sin is not graver than the demons'. But man's place of punishment is hell. Much more, therefore, is it the demons' place of punishment; and consequently not the darksome atmosphere.
3. Further, the demons are punished with the pain of fire. But there is no fire in the darksome atmosphere. Therefore the darksome atmosphere is not the place of punishment for the demons.
On the contrary Augustine says (Gn ad lit. iii, 10), that "the darksome atmosphere is as a prison to the demons until the judgment day."
I answer that The angels in their own nature stand midway between God and men. Now the order of Divine providence so disposes, that it procures the welfare of the inferior orders through the superior. But man's welfare is disposed by Divine providence in two ways: first of all, directly, when a man is brought unto good and withheld from evil; and this is fittingly done through the good angels. In another way, indirectly, as when anyone assailed is exercised by fighting against opposition. It was fitting for this procuring of man's welfare to be brought about through the wicked spirits, lest they should cease to be of service in the natural order. Consequently a twofold place of punishment is due to the demons: one, by reason of their sin, and this is hell; and another, in order that they may tempt men, and thus the darksome atmosphere is their due place of punishment. Now the procuring of men's salvation is prolonged even to the judgment day: consequently, the ministry of the angels and wrestling with demons endure until then. Hence until then the good angels are sent to us here; and the demons are in this dark atmosphere for our trial: although some of them are even now in hell, to torment those whom they have led astray; just as some of the good angels are with the holy souls in heaven. But after the judgment day all the wicked, both men and angels, will be in hell, and the good in heaven.She said: 'These ionospheric thunderstorms are well known, but it's only now we have been able to show a direct link between them and the loss of the GPS. 'This is possible because the Swarm satellites provide high resolution observations of both phenomena at one spacecraft.'
1. A place is not penal to angel or soul as if affecting the nature by changing it, but as affecting the will by saddening it: because the angel or the soul apprehends that it is in a place not agreeable to its will.
2. One soul is not set over another in the order of nature, as the demons are over men in the order of nature; consequently there is no parallel.
3. Some have maintained that the pain of sense for demons and souls is postponed until the judgment day: and that the beatitude of the saints is likewise postponed until the judgment day. But this is erroneous, and contrary to the teaching of the Apostle (2Co 5,1): "If our earthly house of this habitation be dissolved, we have a house in heaven." Others, again, while not admitting the same of souls, admit it as to demons. But it is better to say that the same judgment is passed upon wicked souls and wicked angels, even as on good souls and good angels.

Consequently, it must be said that, although a heavenly place belongs to the glory of the angels, yet their glory is not lessened by their coming to us, for they consider that place to be their own; in the same way as we say that the bishop's honor is not lessened while he is not actually sitting on his throne. In like manner it must be said, that although the demons are not actually bound within the fire of hell while they are in this dark atmosphere, nevertheless their punishment is none the less; because they know that such confinement is their due. Hence it is said in a gloss upon Jc 3,6: "They carry fire of hell with them wherever they go." Nor is this contrary to what is said (Lc 8,31), "They besought the Lord not to cast them into the abyss"; for they asked for this, deeming it to be a punishment for them to be cast out of a place where they could injure men. Hence it is stated, "They [Vulg. 'He'] besought Him that He would not expel them [Vulg. 'him'] out of the country" (Mc 5,10).