Polish Jihadist
IDENTITY PARTICULARS
Present family name: JAKUS
Forename: JAKUB
Sex: Male
Date of birth: 31/07/1992 (24 years old)
Place of birth: SANDOMIERZ, Poland
Language spoken: English, Polish, Arabic
CHARGES Published as provided by requesting entity
Charges: participation in terrorist organisation "Islamic State of Iraq and the Levant" (ISIS); facilitation of participation in terrorist organisation (ISIS); illegal possession of firearm, theft of document and use of a document certifying the identity of another person
Might be dead:
Polski dżihadysta zginął w Syrii. Czy to Jakub Jakus? Co o nim wiemy? Dżihadysta o przydomku "Polak", który zginął w okolicach Aleppo w Syrii, to najprawdopodobniej 24-letni Jakub Jakus. Kilka miesięcy temu poznałem jego historię - rozmawiałem z jego rodziną i znajomymi. Oto, czego się dowiedziałem. Porównując zdjęcia - te ze szkolnych lat Jakusa i z listu gończego Interpolu oraz to z komunikatu o śmierci dżihadysty - wydaje się niemal pewne, że to ten sam człowiek. "Niemal", bo tożsamości bojownika ISIS, którego nazywano Abu Khattab al-Polandi, nikt jeszcze oficjalnie nie potwierdził. ABW poinformowało tylko, że "na prośbę prokuratury weryfikuje informacje o śmierci polskiego bojownika ISIS.
Source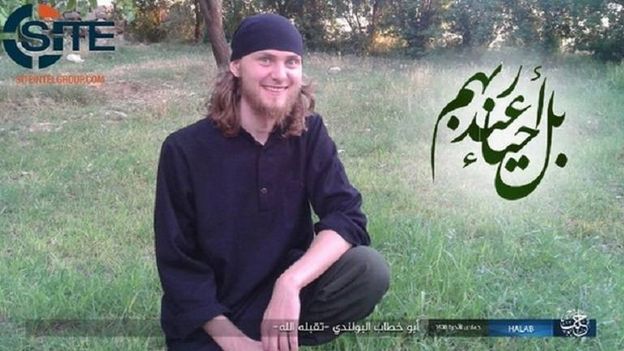 Rejecting the Catholic faith Jakub went to Norway to look for a job. He attended the local Mosques and became radicalized.
Went to Syria and Iraq to fight along side Jihadists.
His love for Polish Nationalism convinced him to join ISIS