Atila S. Guimarães: Is Viganò Just Using These Moral Skeletons In McCarrick's Closet To Attack Francis For Some Ulterior Reason?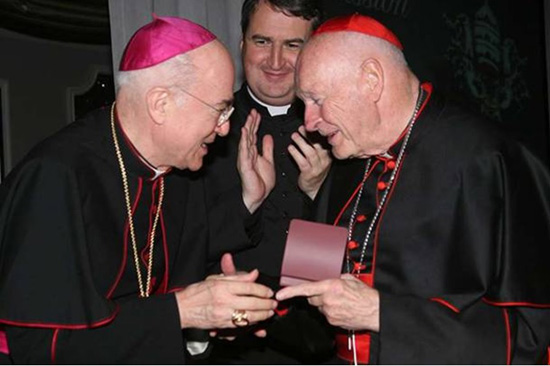 Vigano The Two Faced Napoleon &
McCarrick
"May the curate of my Son, Pope Pius IX never leave Rome again after 1859; may he, however, be steadfast and noble, may he fight with the weapons of faith and love. I will be at his side. May he be on his guard against Napoleon: he is two-faced, and when he wishes to make himself Pope as well as Emperor, God will soon draw back from him. He is the master-mind who, always wanting to ascend further, will fall on the sword he wished to use to force his people to be raised up.
Our Lady of La Salette 19 Sept. 1846
(Published by Mélanie 1879)
Vigano
wishes to make himself Pope.....
Vigano
wishes to make himself Emperor.....
Atila S. Guimarães wonders what
Vigano is up to:
Dear G.T.,
In
my analysis
of Arch. Viganò's first letter asking Pope Francis to present his resignation, I pointed out that one reason Viganò blamed Francis for covering for McCarrick was to save both John Paul II and Benedict XVI from an analogous charge. It was a skillful distraction to deviate attention from the other Pontiffs who were equally suspect.
Also, Arch. Viganò – as well as Card. Burke and Bishop Schneider – base most of their criticism of Pope Francis on documents of Vatican II and the Conciliar Popes, not the bi-millennial doctrine of the Church. This tendency seems to characterize a sort of conservative wing of Progressivism that is reacting against Francis' excesses in order to prevent the Conciliar Revolution as a whole from being blamed for the moral crisis that has contaminated the Conciliar Church from top to bottom.
Added to this is the fact you mentioned, which is that Arch. Viganò himself was accused of covering up for Arch. John Nienstedt of Minneapolis-Saint Paul, who was accused of homosexuality with his seminarians – a case quite similar to that of McCarrick – and of covering for a pedophile priest. You may read the details
here
.
The photo you sent us is quite expressive of the cordial relations between Viganò and McCarrick. Looking at it, some questions come to mind:
If Viganò was so amiable with McCarrick then, when he was aware of all the rotten past of that Cardinal, why is he so demanding now?
Is his present day indignation really moved by a zeal for the glory of God and a concern for the salvation of McCarrick's soul, as he pretends?
Or is Viganò just using these moral skeletons in McCarrick's closet to attack Francis for some ulterior reason?
Speculating on this last hypothesis, are Viganò, Burke and Schneider the outspoken members or allies of a conservative faction in the Roman Curia who is influential enough to make public statements, but not strong enough to change the path Francis has taken?
It seems that, with the growing number of Viganò's interventions issued from some hidden place, this last hypothesis is gaining more and more probability, although without reaching the level of certainty.
These are some thoughts I can offer you with the hope of making the panorama clearer.
Cordially,
Atila S. Guimarães
Source