Pope Benedict's Brother Georg Ratzinger Dies: REMEMBER - THE 35+ YEARS WORTH OF CHASTISEMENTS DO NOT START UNTIL THE TWO POPES ARE DEAD......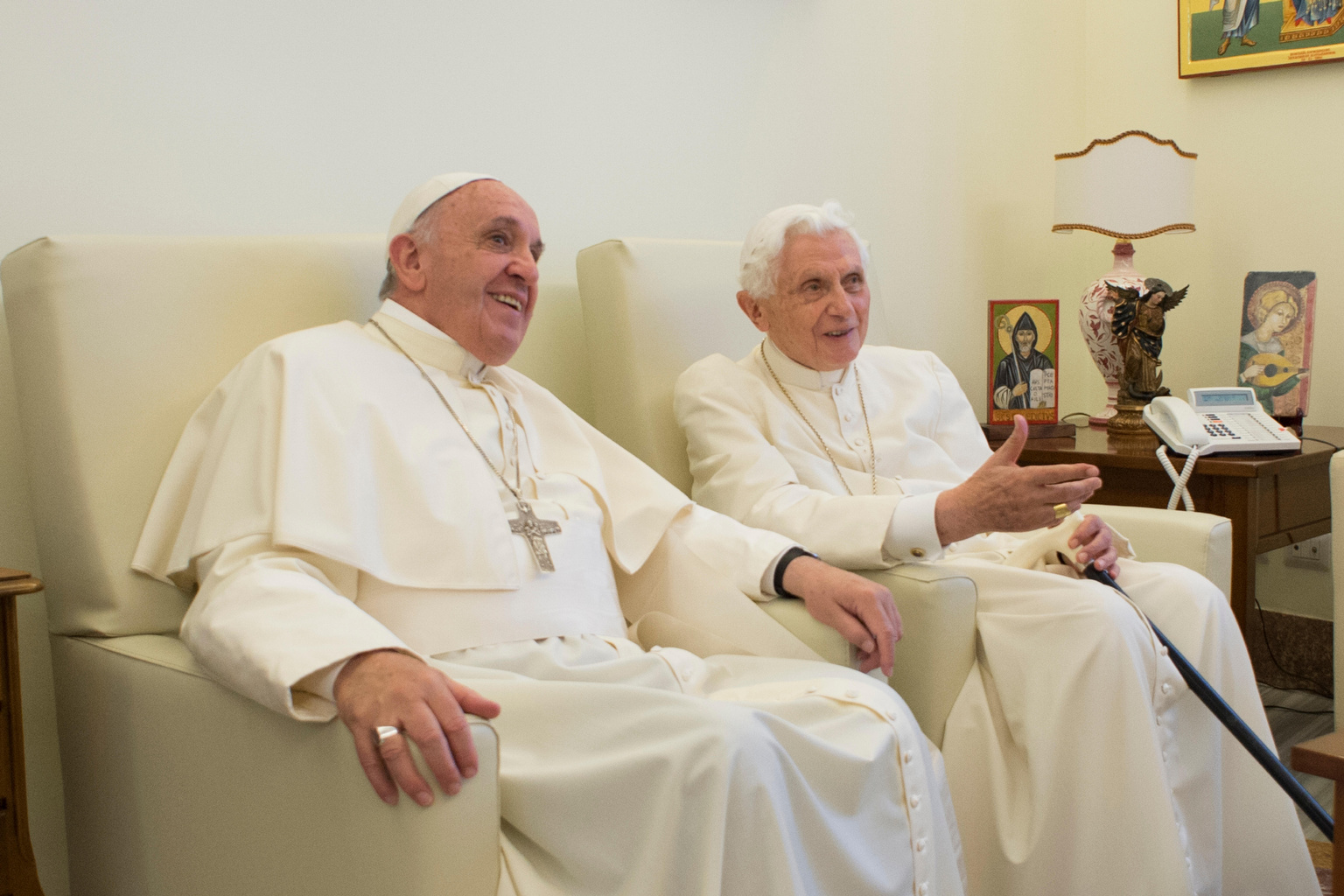 PROPHECY OF MELANIE ON TWO POPES:
"I didn't see, I don't see any Great Pope or Great Monarch before an extremely great tribulation, horrifying, terrible and general for all Christendom. But before that time, twice there will be a short lived peace; TWO shaky, servile, doubtful popes" Mélanie

Pope Benedict can't be too far behind...
Georg Ratzinger, brother of Pope emeritus Benedict, dies in Regensburg
Georg Ratzinger, the older brother of the Pope emeritus, died Wednesday morning, aged 96. He had been hospitalized in Regensburg, the city where he lived the greater part of his long life. With his death, Joseph Ratzinger – who had desired to make the journey by plane to see his dying brother one last time – remains the only member of the family still alive. The two brothers – one a musician and kappellmeister of a famous choir, the other first a theologian and then a bishop, cardinal, and finally pope - were ordained together on the same day, and were always closely united
Born in Pleiskirchen, Bavaria, on 15 January 1924, Georg Ratzinger began playing the organ in the parish church when he was 11 years old. In 1935 he entered the minor seminary in Traunstein, but in 1942 he was conscripted into the Reichsarbeitsdienst (the Reich Labour Service), and later in the Wehrmacht, with which he also fought in Italy. Captured by the Allies in March 1945, he remained a prisoner in Naples for several months before being released and allowed to return to his family. In 1947, together with his brother Joseph, he entered the Herzogliches Georgianum seminary in Munich. On 29 June 1951, both brothers, along with about forty other companions, were ordained priests in the Cathedral of Freising by Cardinal Michael von Faulhaber. After directing the choir in Traunstein for thirty years, from 1964 to 1994, he became the Kappelmeister of the cathedral choir of the Regensburg, the "Regensburger Domspatzen". He toured the world conducting numerous concerts, and directed many recordings for Deutsche Grammophon, Ars Musici and other important record labels, with productions dedicated to Bach, Mozart, Mendelssohn and other composers.
On 22 August 2008, thanking the mayor of Castel Gandolfo for having granted Georg honorary citizenship, Benedict XVI said of his brother, "From the beginning of my life my brother has always been for me not only a companion, but also a trustworthy guide. For me he has been a point of orientation and of reference with the clarity and determination of his decisions. He has always shown me the path to take, even in difficult situations."
"My brother and I," said Georg Ratzinger in an interview eleven years ago, "were both altar boys, we both served Mass. It was soon clear to us, first to me and then to him, that our life would be at the service of the Church." And he shared memories of their childhood: "At Tittmoning, Joseph had received Confirmation from Cardinal Michael Faulhaber, the great Archbishop of Munich. He had been impressed, and said he too wanted to become a cardinal. But, only a few days after this encounter, seeing the painter who painted the walls of our house, he also said that when he grew up, he wanted to be a painter…"
After recalling the dark years of the war, and their father's opposition to Nazism, Georg spoke about the love of music they shared: "In our house everyone loved music. Our father had a zither that he often played in the evening. We used to sing together. It was always an event for us. In Marktl am Inn, later, there was a music band that fascinated me. I always thought that music was one of the most beautiful things God created. My brother always loved music too. Maybe I infected him."
Georg was a forthright man, little accustomed to diplomacy. As an example, he never hid the fact that he did not rejoice at his brother's election to the papacy in April 2005: "I must admit, I didn't expect it, and was a bit disappointed," he said. "Given his heavy commitments, I understood that our relationship would be notably curtailed. In any case, behind the human decision of the cardinals, there is the will of God, and to this we must say yes."
In 2011, in an interview with a German magazine, Georg Ratzinger said, "If he could no longer carry out his duties from the point of view of his physical condition, my brother should have the courage to resign." And he would be among the first to be informed, months in advance, of Benedict's historic decision to renounce the Petrine ministry for reasons of age. "Age makes itself felt," Georg observed after the announcement of the resignation in February 2013. "My brother desires more peace in old age." Despite health issues with his legs and eyesight, the older brother of the Pope emeritus continued to travel from Regensburg to Rome, staying at the Mater Ecclesiae monastery for various periods, spending time with Benedict and keeping him company.
Georg also appeared, in segments excerpted from various interviews, in a half-hour documentary by journalist Tassilo Forchheimer for Bayerischer Rundfunk, the public broadcaster in Bavaria, which was aired in January 2020. Source
Mélanie
"We are all guilty! Penance is not done, and sin increases daily. Those who should come forward to do good are retained by fear. Evil is great. A moderate punishment serves only to irritate the spirits, because they view all things with human eyes. God could work a miracle to convert and change the aspect of the earth without chastisement. God will work a miracle; it will be a stroke of His mercy; but after the wicked shall have inebriated themselves with blood, the scourge shall arrive Mélanie
"What countries shall be preserved from such calamities? Where shall we go for refuge? I, in my turn, shall ask, What is the country that observes the commandments of God? What country is not influenced by human fear where the interest of the Church and the glory of God are at stake? (Ah, indeed! What country, what nation upon earth?) In behalf of my Superior and myself, I have often asked myself where we could go for refuge, had we the means for the journey and for our subsistence, on condition that no person were to know it? But I renounce these useless thoughts. We are very guilty! In consequence of this, it is necessary that a very great and terrible scourge should come to revive our faith, and to restore to us our very reason, which we have almost entirely lost. Mélanie
MARIA OF THE CROSS,
Victim of Jesus nee MELANIE CALVAT,
Shepherdess of La Salette
"I protest highly against a different text, which people may dare publish after my death. I protest once more against the very false statements of all those who dare say and write First that I embroidered the Secret; second, against those who state that the Queen Mother did not say to transmit the Secret to all her people." Mélanie